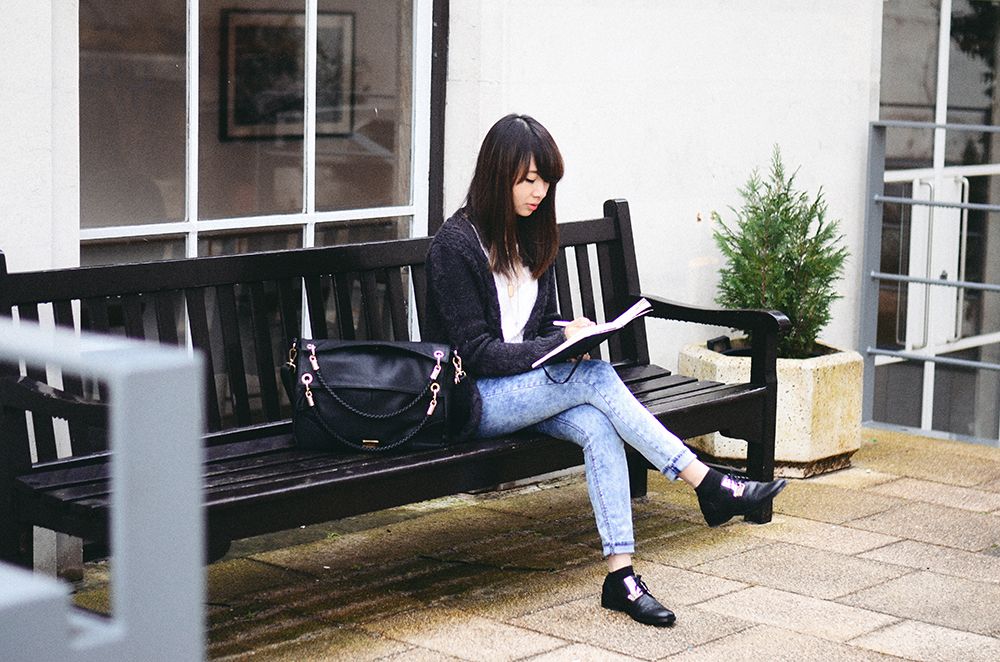 Lace Top
Urban Outfitters
|
Moto Acid Leigh Jeans
Topshop
| Gold plated Brogues
Steve Madden*
Knit Cardigan
Gina Tricot
| Suki Slouch Shoulder Bag
marc b. via Bank Fashion
*
It surely is confusing, isn't it? On one hand, I'm complaining about being stuck in the library. On the other hand, you see my blog with all these outfits that show no sign of
study-madness
. What's going on? The answer is simple: if I showed you how to wear hoodies, that wouldn't be quite as interesting as my attempts on
s
tyling trainers
or my little
LFW break
, right? And me without make-up in high resolution photos? I don't think you guys are quite ready for that, yet. So sometimes I show off my better-looking self to pretend that
Final Year
isn't all that miserable and stressful as I think it is. I mean, this is how I used to look like most of the time last year, when other things than coursework, food and sleep mattered as well. Though, that seems like a long long time ago.
Since real life and blog look like they contradict each other now and then (for the sake of looking cool instead of nerdy), I thought, let's show you a glimpse of the more private me in a much more casual look and with a cheeky
peek into my bag
to see what's in there, because, believe it or not, I am actually a Final Year student that studies and not just flocks around all the fashion events (otherwise, my Asian tiger mum would hijack the next plane to take me back to Berlin)!
German:
Es ist sicherlich etwas verwirrend, wenn man einige meiner Aussagen mit meinem Blog oder Instagram vergleicht. Einerseits beschwere ich mich ueber schlaflose Naechte aufgrund von Tests oder Hausarbeiten, andererseits zeige ich lauter Outfits, die keine Spur von Unistress aufweisen. Was geht da nur vor sich? Die Antwort is simpel: Es waere sicherlich nicht ganz so interessant, wenn ich euch zeigen wuerde, wie man Hoodies kombiniert. Und ich ohne Make-Up, meine Augenringe entbloesst, ich glaube, dafuer seid ihr noch nicht bereit. Deswegen lege ich mich ab und zu in Schale und tue so, als sei das letzte Unijahr gar nicht so stressig, wie ich es mir vorstelle. Ich meine, so sah ich im letzten Jahr ja auch staendig aus, zu einer Zeit, in der noch andere Sachen als Hausarbeiten, Essen und Schlafen wichtig waren. Doch irgendwie scheint das sehr sehr lang her zu sein. Doch da das wahre Leben und der Blog sich zurzeit anscheinend widersprechen, dachte ich, zeige ich euch etwas mehr aus meinem ganz privaten Leben: ein etwas laessigerer Look und vor allem: ein Einblick in meine Tasche. Denn ja, ich bin tatsaechlich ein Student, der auch lernt und nicht nur von einem Fashionevent zum anderen geht (wenn ich das machen wuerde, glaubt mir, meine Mutter haette schon laengst ein Flugzeug gecartert und mich abgeschleppt!).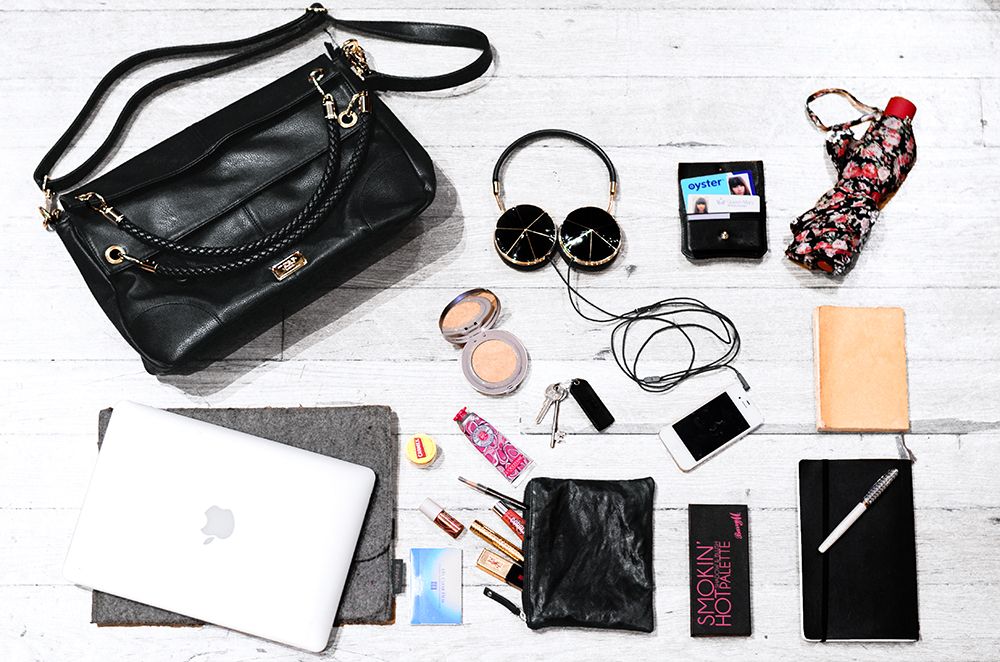 [Rollover to see numbers! Credits to
Shini
for the idea.]
Marc B Suki Slouch Bag: The bag that can transform from casual to more feminine, but most importantly: I can put my laptop in!
Frends Headphones that cancel out all the laughters of the non-final years in the library (aka people who still have a life...).
Cardholder with the generic necessities: credit card, oyster card and student card.
Umbrella, because... I live in London. No explanation needed...
House keys that always end up in the jacket I'm not wearing at the moment...
iPhone 4S the magic item that takes all the #foodgasm photos.
Muji Notebook where I note down all my brilliant ideas, 'cause I'm a genius, you know ?
Macbook Pro Retina 13", my little sexy uni life saver. Records lectures, stores all my documents and enables me to take notes (oh, and allows me to procrastinate on facebook, but pssst!).
Moleskine Weekly Planner, my personal secretary in mini. Without it? I would have been kicked out of uni ages ago for missing deadlines.

Make Up Goodies to stay fabulous (or pretend to be). With Laura Mercier Compact Tinted Moisturizer, Carmex Lip Balm, L'Occitane hand cream, blotting paper from Vietnam, benefit benetint & coralista lip gloss, YSL Touche Eclat & stain gloss, Shu Uemura Brow pencil and Barry M. Eyeshadow palatte. From Uni to a Dinner Date? No biggie.